Well here it is, friends. My coffee table bargain. I didn't think I would ever get through! I ran out of Old Ocher Chalk Paint so put some on an index card (actually my hubby did it) and took it to Lowe's to match it in latex paint. They didn't quite get the right color and I didn't realize it until too late. We need better lighting in the garage. Sigh..
I don't have the distressing down very well either. But I will try again soon with some old tables that a friend gave me recently.
There are so many talented people out there in blog land. Here is one who was my inspiration for the writing on the table:
Go Here
I had searched all over the web to find instructions on how to get lettering on without doing it free hand. Katie had the best solution. She uses graphite paper that you can get at Michael's. I had Kinko's enlarge my script to fit the table.
I took this off before I took a picture
You have to really be careful with the graphite paper. It transfers really easily and if you press in the wrong place, you will have a lot to clean up. I know. I did.
This is how it looked after tracing each letter. Later I filled in each letter with a black paint pen. It was just like coloring in a coloring book.
This is the before picture.
I am linking up to these parties.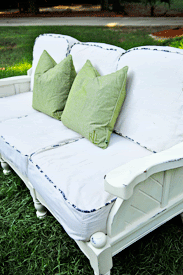 />